How to Buy Higher Quality Images
Most online materials are available for personal or commercial use at a higher quality than shown online in our subscription service. Publishing quality images on Scran exceed 3000x2000 pixels and have been scanned at 300 dpi as a minimum.
How do I Buy?
Search for materials using Scran search.

The Buy button is to the right in the tool bar below the image.
Click the Buy button to add to basket.
A confirmation dialog displays briefly. You can click the cross to close immediately.
Continue shopping and click Buy to add more items to the basket.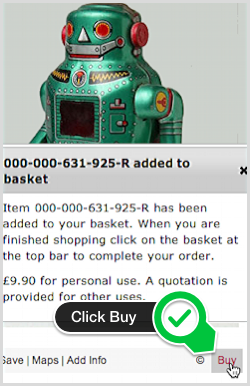 Your Basket & Checkout
On your first click of Buy, a Checkout button will appear in Top Bar of the page - just above Search and next to Log In.
This shows a count of all items in your basket.

Click Checkout to pay when finished selecting items.
You may also remove items in the Checkout.


Making a List with Scran IDs
The checkout will also accept a list of image IDs. This is useful if you are buying a lot of images. IDs are shown below images. They look like this 000-000-183-685-C. To collect your IDs in a text file, highlight each ID and use copy and paste into your favourite note or word processing application. Put a comma and space between each. When you are ready, find the the first image, go to checkout and then copy and paste in your list to the Add Images field eg 000-000-183-685-C, 000-000-183-639-C... The system will find all the images and add them.
Image Sizes
Order Processing
A licence and quotation is sent to you by email usually within a day [often within a few hours]

If you change your mind, you can abandon the order or email us to change your requirements
Go to the website link provided in the email to accept licence and pay

When you accept the licence, you commit to purchase
The images can then be downloaded right away

Prices
Personal Use Prices start at £9.90 including VAT charged at UK rate.

A guide to commercial pricing is available here.
Your licence is active after payment.
Payment
Payment is collected by credit or debit card
For long term clients, we can set up an invoicing arrangement

Images remain the property of the rights owner. You are legally bound by the terms of the issued licence. To use the image for a further purpose, you must contact Scran again.