Seminar Template
Evidence for the Vikings in Scotland
Brief description of the evidence:
Tenth century bronze brooch found at Ward Hill.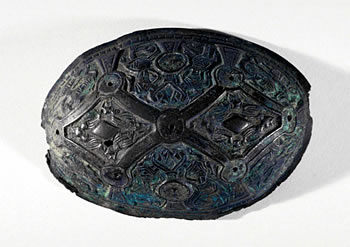 Bronze Viking Brooch
Shetland Museum
SCRAN ID No 000-000-000-331-C
Source of reference for the evidence:
SCRAN: www.scran.ac.uk
Use your ATHENS account to log in.
Search for: '000-000-000-331-C'
Extract of text, or illustration of object or site (URL), for further information:
'A single shell brooch decorated with diamond-shaped panels of zoomorphic motifs, separated by small, raised bands on which some lighter coloured metal, possible gilding, can be detected. Nine slightly raised bases with holes through their centres indicate accommodation of decorative bosses, but these are missing...'.
Significance of the evidence:
The Vikings settled in northern and western Scotland from the ninth century onwards. The brooch, which may have belonged to a Viking lady, or to a Scottish lady 'married' to a Viking shows that contacts between Scotland and Scandinavia were buoyant. The Arab writer Ibn Fadlan had remarked about other Scandinavian settlers in Russia that Viking women display their wealth through their jewellery. This brooch was covered in possible gilding, which shows that it was made to look precious. Similar brooches were found at Pierowall, Orkney, and Lewis, Hebrides, which is evidence for mass production of goods. The brooch is evidence that tenth century Scotland had strong trade connections to Scandinavia, or that Scottish manufacturers made 'Scandinavian' brooches for their clients.
Further reading:
SCRAN website, search on 'Viking women', this gives you a number of Viking brooches found in Scotland.
Graham-Campbell, James, The Viking-age Gold and Silver of Scotland (Edinburgh. National Museums of Scotland: 1995).