Scran podcasts are a new addition to our resources and can be streamed and downloaded in a number of different ways.
from iTunes
You can subscribe to our podcasts and download them for free at our dedicated space on Apple's iTunes store!

You can download Apple's iTunes software at http://www.apple.com/itunes/overview/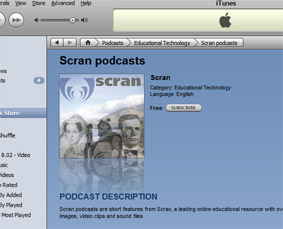 from Scran
Each of our podcasts can also be heard or downloaded on the Scran site itself. Go to the menu at the left of the screen, click on Resources, then click on Features. If a Feature has an associated podcast, you will see this at the bottom of the page:

You can download the audio-only podcast in mp3 format to listen to on your mp3 player or computer. You can also download an enhanced podcast (featuring Scran images) to view on your suitably equipped iPod or on your computer.
You can also listen to the podcast directly from Scran, without downloading it, by using the built-in audio player on the Feature page. it's near the bottom of the page and looks like this:
Click on the triangular "play" button to hear the podcast. You will need to have Flash enabled on your computer for the audio player to work.
Not all Features have associated podcasts yet, but during 2008 we will be adding more podcasts to our Features!