Igneous Rocks - Dolerite
Dolerite is the medium grained, intrusive, equivalent of a basalt (link to basalts). It usually occurs as dykes, plugs or sills. Being intruded into country rocks at shallow levels, the magma has more time to cool than if extruded. This allows for the growth of constituent minerals to the point where the groundmass crystals may be easily identified with a hand lens if not the naked eye. Dolerites may be porphyritic, containing phenocrysts of plagioclase, olivine and even quartz (an olivine analcite dolerite is known as a crinanite).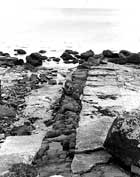 On Arran, dolerite forms the majority of the sills and dykes seen. Tertiary igneous activity saw the stretching of the crust as the North Atlantic was opening. Weaknesses in the crust became exploited by magmas which solidified to create the dykes and sills. Dyke swarms, chiefly doleritic, can be seen all along the south coast of Arran and are especially well exposed at Kildonan and Largybeg.

These hypabyssal rocks intrude Permian and Triassic sediments. when this happens there is often local alteration, confirming that the host rock was formed first and that the dyke intruded later. On Arran, look carefully at the margins of the dykes, and you will see that in some case there is a prominent 'chilled margin', where the hot intruding lava has cooled more quickly where it was in contact with the cool host rock. The centres of such dykes will be more coarsely crystalline as they cooled much more slowly and crystal had longer times to grow. You can see this with the naked eye, and even more clearly with a geological hand-lens.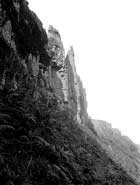 Famous examples of dolerite intrusions on Arran include: Dippin Head Sill, an olivine dolerite; Padda sill, a quartz dolerite sill on an island off the south coast of Arran; and Levencorroch sill, also a quartz dolerite. Bennan Head is another good locality to see the evidence of the importance of volcanic intrusions on Arran.