Home

Whale uses

Whale oil

Lighting

Textiles

Trench foot

Explosives

Whale oil - an overview
Whale oil, or train oil as it used to be called from the Dutch traan, meaning a tear or drop, is oil from baleen whales. It is a true fat consisting largely of triglycerides, a compound formed from glycerol and fatty acids. Many of the uses of whale oil involved the breakdown of the oil to produce glycerol and fatty acids.
The whole body of a baleen whale is impregnated with oil. The blubber contains most, yielding 50-80% by weight, the bones contain 40-60% and the muscles 6-7%. When whales were commercially exploited, there were 4 grades of oil on the market; grade 1, a clear straw coloured liquid, was the finest while grade 4 oil was dark brown and contained up to 60% of unsaturated fatty acids giving it a foul fishy taste and smell.
Grade 1 and grade 2 oil came from the blubber, grade 3 from meat and bones and grade 4 from blood, viscera and other bits and pieces. Up to the beginning of the 20th century whalers took only the blubber (and the baleen) and then left the rest of the carcass to rot in the sea. It was only with the development of modern whaling, largely in the Antarctic, that the whole carcass was processed.
The blubber was cut from the whales in strips ("making off" or "cutting in"). This usually took place at sea but the American whalers, working close to shore, sometimes towed the whale into port for processing. The British Greenland whalers operating in the 1800s brought the whale alongside the ship to flense it and then packed the blubber into barrels for transportation back to port. There, they extracted the oil by boiling the blubber in large open "try" pots. Nothing was wasted; the fenks, the bits left over after the blubber was boiled, made an excellent manure, especially in soils deficient in animal matter.
In Peterhead the barrels were unloaded on Blubber Quay and then the processing took place in the boilyards on Keith Inch. The resulting oil was stored and transported in wooden barrels, each containing about 40 gallons.
From the 16th to 19th centuries whale oil was inedible and was used principally for lighting, lubrication and the manufacture of soap, textiles, jute, varnish, explosives and paint.
In more modern times fresh oil was hardened and then it could be used in the manufacture of margarine. Only in the 1930s did it become technically possible to replace whale oil with the vegetable oils that are used in modern margarine production.



National Oceanic and Atmospheric Administration
Whaling bark Alice Knowles, New Bedford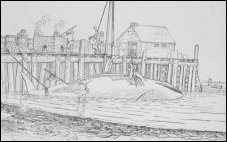 National Oceanic and Atmospheric Administration
Cutting in a humpback whale at
Provincetown, Mass.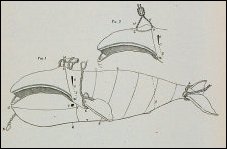 National Oceanic and Atmospheric Administration
Method of cutting in a bowhead whale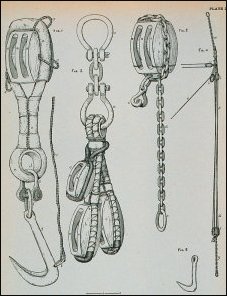 National Oceanic and Atmospheric Administration
Tackle for cutting in.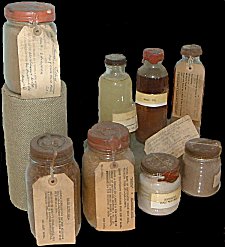 ©Martyn Gorman/Arbuthnot Museum
Bottles of whale oil and meat