Discover our Pathfinders treasure trove of people and ideas...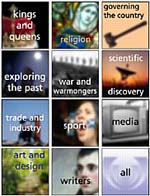 Now - with the recent makeover - our Pathfinders have become a wonderful fun resource to check out. They are still a trusted digest of facts on people, places and topics but they are also bright and easy to use. We've mapped out the route to the treasure in a fresh new interface.
Kings and Queens, Religion, Governing the Country, Exploring the Past, War and Warmongers, Art and Design are just some of the major themes to explore. And within these you can find topics like Wars of Independence, Reformers and Radicals, Crafts and many more.
And the new alphabetic array lets you fine tune your list of Pathfinders, if it's a long one. Pathfinders are fresh and easy to use. Remember that every image in a Pathfinder is clickable and leads straight into the Scran database if you want to dig deeper.
---
Graham Turnbull, 18th March, 2003