New Albums: Current Albums cease on Thursday 29th April.
27th April, 2004
Scran is improving the way our very popular Albums work. That means that Albums have to be switched off for a short period - starting on the evening of Thursday 29th April 2004.
They will be back again at as soon as possible and we will have converted all your existing Albums into the new format.
Everything else will work as normal on Scran and - of course - we'll look after your current Albums.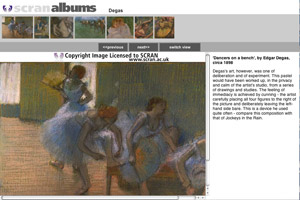 What's New?
For a start, you can create your own Worksheet or Pathfinder instantly from Albums; you can edit all the captions that go along with records; and, most impressively, you can create your own mini website that you can download for your own use. This is instant e-content for you.
Why not read about Albums by accessing the Albums FAQ or the Albums Manual?
Let us know what you think once you've had a shot at the new Albums.