Web Site
Better Photography: The Right Way to Compose Pictures
Created by John Edmonstone and Eric Judlin, Cardonald College
What kind of resource is this?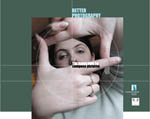 A website which guides users through the basic techniques for taking better photographs. Topics covered include framing, viewpoint, juxtaposition, film speeds and choosing the right film, camera technique and camera accessories. The materials include an interactive quiz and are also available in booklet form.
Read the full case study to find out more about this resource and how it was made.
Who was it designed for?
Photography students at both Higher National Certificate level and National Certificate level. It is also suitable for students studying photography as part of Media Studies courses at National and Higher National Certificate level. It will also be of interest to anyone keen to improve their camera technique.
Points of interest:
In a large image database such as Scran there is a wealth of material to illustrate the principles of photography. The authors here have made a great job of scouring Scran for some of the best examples of good photographic practice. Highlights of this resource include the very clear, practical advice and the multitude of examples available to illustrate each point. This is particularly useful given shortage of good quality exemplar material in this subject area, particularly those which can be used independently of the tutor.
View this resource:
Better Photography: website | booklet (PDF)