Web Site
A Virtual Field Trip in Roman Scotland
Created by Dr Colin J. Martin, Honorary Reader in Maritime Archaeology, University of St Andrews
What kind of resource is this?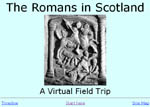 A web-based resource which focuses on a selection of Roman military sites to illustrate the general history of the frontier in Scotland. It shows how the Roman army functioned, how it interacted with native societies and how archaeological evidence can be used to construct and test hypotheses.
Read the full case study to find out more about this resource and how it was made.
Who was it designed for?
Undergraduate students in Classical Studies / Archaeology. Also suitable for lifelong learners interested in finding out more about Roman Scotland.
Points of interest:
This resource provides ready access to a general overview of Roman Scotland based on the most up-to-date scholarship. It also introduces users to the concept of integrating historical and archaeological evidence and challenges them to use this evidence to pose and answer interpretative questions.
View this resource:
A Virtual Field Trip in Roman Scotland | website