Web Site
International Exhibitions: 1851 – 1938 A Visual Library
Created by Juliet Kinchin, Lecturer in History of Art, University of Glasgow
What kind of resource is this?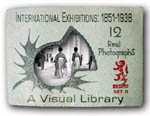 A web-based 'Visual Library' of images and text relating to international exhibitions in the period 1851-1938. The resource can be searched either by a specific exhibition, or by themes that span the whole period such as 'empire', 'souvenirs' or 'display design.'
Read the full case study to find out more about this resource and how it was made.
Who was it designed for?
Undergraduate students on a History of Art course Design, Politics and Commerce: International Exhibitions 1851-1951 at the University of Glasgow. Also suitable for students in related disciplines such as Social and Economic History, Scottish Studies or Sociology.
Points of interest:
Images are essential to the teaching of art and design history, but owing to copyright restrictions there are problems in making them widely available to students. In general there is also a shortage of accessible textbook material in the field of Design History which is a relatively young academic discipline.
This resource makes the most of the copyright cleared material available on Scran and it will cut out much of the time-consuming and often complex process of extracting the images on this topic from large image detabases. It also provides learners with both an interpretative framework and contextual detail drawn from the author's own research into this topic.
A resource of this kind can be used in connection with the course for lecture revision, preparation for small-group seminars and for independent research related to essay assignments. Particular advantages include:
The images can be made available to students outside the context of the lecture theatre, thereby facilitating preparation and follow-up.
The user can be more proactive in consulting this website than a published resource. For example, through searching the website, material can be organised chronologically or thematically.
Specific images, events and themes can be extracted more easily than having to trawl through a variety of published sources or archive/ museum listings.
The majority of images have been related to more than one 'theme'. This should help users to appreciate how a single image can generate multiple readings.
View this resource:
International Exhibitions: 1851 – 1938 A Visual Library | extracts in a web page